After struggling with the pandemic for over a year and a half, the world is finally regaining balance and is on course to normalcy. The offices have reopened and the workspace environments have changed. Businesses now need a space that offers the flexibility of location, time, office size, rent, and costs. The most ideal space that caters for these requirements is a co-working space.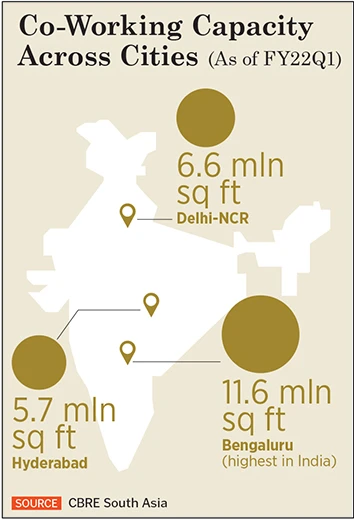 Source: CBRE South Asia
CDC flexible workspace recommendations
Reopening flexible workspaces involves following these safety steps:
State and local government reopening regulations to be followed
Operating procedures to be communicated to employees and visitors
Post signage in-person outlining your safety guidelines
Regular sanitization and disinfection
Entry prohibited for visitors who have COVID-19 symptoms, recently visited high-risk cities, or came in contact with a carrier
Minimized in-office traffic through shift working patterns
No buffet or community catering
No gatherings above 20 people
Temperature checks upon entrance
Masks to be mandatorily used by guests
Personal hygiene best practices to be promoted in common areas
Sanitizers at entrances and communal spaces
Socially distanced spaces to ensure safety
Benefits of co-working workspaces
Enhanced safety measures
In the post-pandemic era, businesses are looking for spaces with a robust safety system. Co-working spaces incorporate flexible and well-designed strategies for a hygienic environment. The futuristic co-workspaces include revamped technology for smart lighting, automated doors, hands-free check-ins, etc. to enable a contactless system.
Social distance
Each individual occupies a separate workstation and teams get isolated hubs in a co-working space. In fact, these spaces are ensuring social distancing by setting desks apart by 80-100 sq. ft. Companies are now exploring options like the 'Work Near Home' policy and leasing smaller spatially distributed spaces rather than one large space. Co-working spaces have become the ideal solution to cater to such flexible demands.
Technology adoption
Businesses today look for a co-working space that is technologically advanced and productive to avoid the hassle of running a workspace. The modern co-working spaces are equipped with high-end technology and automated systems, like asset management via IoT, spatial analytics, visitor management systems, virtual reality and more. These interventions offer a world-class experience for businesses.
No distractions
While WFH offers flexibility, it accompanies distractions like noises from kids playing around the house, construction work nearby, etc. Hence, shifting to a co-working space nearby is a better and quieter option. Employees get their own workstation with a professional setting, granting them an ideal space to work and peace of mind.
Although we shifted to WFH temporarily, the pandemic has made us realise that the office space will remain an integral part of our professional lives. However, it needs to be re-designed to accommodate the current safety requirements and co-working spaces are at an inflection point to cater to that evolving need.