In this fast-paced world, the transformation of work and the concept of the workspace is vivid. Systems that worked a decade ago might be impertinent today. People now want workspace experiences that offer flexibility. Spaces that have the fluidity to incorporate concepts like co-working, shared, and hybrid spaces are preferred by the dynamic workforce. Below are several strategies that can help boost occupancy in flexible workspaces.
1. Think service, not space
The definition of a flexible office has evolved. From a mere concept of space, it has evolved into a medium to grow. This requires seamless integration of management and technology to fulfil occupiers' exigencies for a smooth work experience. Hence, the owners need to shift their mindset and expand their services to attract talents, as word of mouth is a powerful tool to drive occupancy and accelerate growth for a flexible workspace.
2. Identify the operational mode
Flexible workspaces can be operated in either of the three modes:
Self operate
Partner with an operator
Lease to a third-party
Currently, in India, leasing space to a third-party operator is the most widely used strategy that ensures minimal risk and rental guarantee. However, from an operator's point of view, the partnership model seems to be the most feasible approach as it allows both the stakeholders to play to their strengths.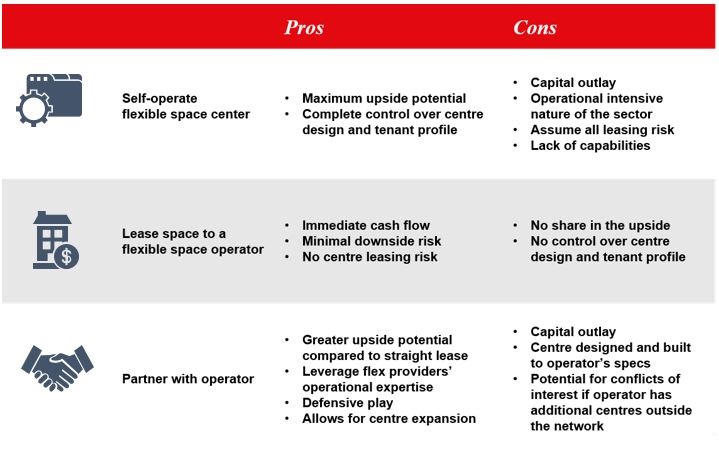 Source1
3. Build a community
A tight-knit community is a key to a flexible space's holistic growth. One of the central objectives for occupiers to rent such spaces is the opportunity to connect with people and explore new growth avenues. Hence, it's crucial to take strategic measures for fraternity development, like hiring a community manager to help integrate the community.
4. Design strategically
Design is inherent to flexible spaces. People across all generations and fields occupy shared workspaces. Thus, office design elements need to be implemented mindfully, to cater to and inspire the entire community. Ideally, the interior should fulfil both the fundamental requirements – set the space apart from the standard offices and be work-agnostic to drive productivity.
Companies are rapidly embracing the idea of a flexible workspace to leverage its multidimensional benefits for organizational growth. The sooner they integrate it into their culture, the quicker they will reap the perks.
Citations: