The clean, refreshing smell of a new business. The air is filled with anticipation, joy and hopes for the future. And alas – what comes in the way? Paperwork, red tape, and legalities. For many of us, the quagmire of registering a new business is nearly impossible to navigate. For those of us who come from more creative backgrounds, the processes, forms and nomenclature that goes into legitimating a start-up feels totally foreign.
That's why we've put together a comprehensive list of the different business entities available now in India, and what they all mean. Hopefully, this guide should shed some light on how to proceed with your brand new business, and how to stack the odds in favour of its success with the right registration.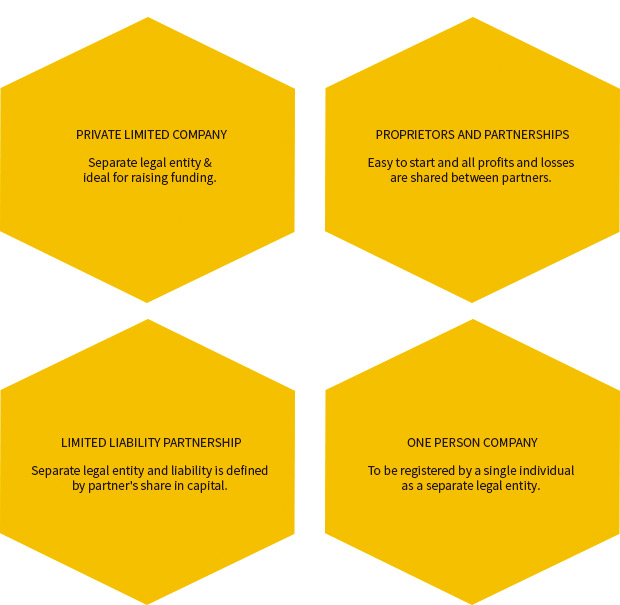 1.Private Limited Company
A Private Limited Company is a popular choice because it allows the business to be a separate legal entity from its founders. Business assets are separate from personal assets, and each shareholder is only responsible for their share of the company's capital. This business structure is also ideal for companies that are looking to quickly raise funding. The start-up costs can be as low as Rs. 8000, depending on the state of registration.
However, a possible downside of the Private Limited Company is the amount of compliance necessary. The set-up of the company must meet the requirements of the Ministry of Corporate Affairs, ranging from statutory audits, annual filings with the Registrar of Companies, annual submissions of IT returns, quarterly board meetings with the filings of minutes and more.
The Private Limited Company also has fewer tax advantages as compared to other registration types. Depending on industry specifications, one must pay around 30% of profits as tax, as well as the Dividend Distribution Tax and Minimum Alternate Tax.
If you feel your business isn't up to these legal burdens, it may be wise to wait before registering as a Private Limited Company.
2.Proprietorships and Partnerships
responsible for the profits and losses of the company, and is not legally separate from the company. The Sole Proprietor must bear the losses, and their personal assets can become at stake.
Similar to a Sole Proprietorship, Partnerships include more than one individual. The responsibilities and shares of each Partner is established in a legal partnership agreement. Any profits or losses are shared between partners, and the personal assets of each partner may be used to compensate losses.
These types of businesses are one of the easiest to start, as there are no separate legal procedures besides a relevant government registration.
3.Limited Liability Partnership
Similar to a Private Limited Company, here the business is a separate legal entity from the shareholders, and the shareholders' personal assets are not at risk in case of losses. The maximum liability of each partner is defined by each partner's share in the business capital. LLPs have more credibility amongst investors than sole proprietorships and partnerships because LLPs require the proper maintenance of financial and tax records.
Compared to a Private Limited Company, LLPs have lower start-up costs, with government fees of Rs. 5000 and no paid-up capital. LLPs are a good option if your business doesn't require external funding, as they combine the benefits of Private Limited Companies and Partnerships – limited liability, and simple structures.
LLPs require fewer compliances, as audits need to be performed only if your turnover is more than Rs. 40 lakhs, and if the paid-up capital is more than Rs. 25 lakhs.
If your company is earning profits that exceed Rs. 1 crore, LLPs offer some tax benefits. There is no tax surcharge after the 1 crore mark (unlike most other types of companies) and no Dividend Distribution Tax. LLPs also have no limits to the number of partners you can have.
4.One Person Company
A One Person Company registration was introduced in 2013, allowing a single individual to register their company as a separate legal entity. The OPC creates a single person economic entity, and unlike an LLP or Private Limited Company, requires only one person.
An OPC is a great improvement over Sole Proprietorships as it limits one's liability. The OPC is ideal for solo entrepreneurs, and only requires a nominee director who ultimately has no power unless the original director is unable to enter into the contract. However, if your company's revenue exceeds 2 crore and the paid-up capital exceeds Rs. 50 lakhs, you will need to register as a Private Limited Company. An OPC also has no scope of raising equity funding.
The start-up costs for OPCs are similar to Private Limited Companies, starting at Rs. 7000, depending on the state of registration. OPCs require a high compliance – while there are no board meetings, you are still required to conduct statutory audits, submit annual IT returns and comply with the MCA's requirements.
The tax benefits are also the same as Private Limited Companies – meaning that a flat 30% of profits have to be paid as tax. If you're looking for a registration with higher tax benefits, LLP is the way to go.
5.Section 8 Company
A Section 8 company is registered as a Non-Profit Organization. These sorts of companies are usually involved in the promotion of arts, charity, education, protection of the environment, social welfare, sports, research, religion and so on and intends to apply its profits (if any) only to the promotions of these endeavours. An NPO functions exactly like a limited company, including all the rights and obligations that go with it.
How to register
Thankfully, the registration process in India can now be boiled down to 4 steps. Here's a list of the 4 things you'll need:
A Digital Signature Certificate (DSC)
A Director Identification Number (DIN)
Registration on the MCA Portal or New user registration
Certificate of Incorporation
Step 1: Acquiring the Digital Signature
The Digital Signature is required to submit legal documents electronically. One can acquire a Digital Signature certificate from government listed agencies like TCS, IDBRT, MTNL, SAFESCRYPT, NIC, nCODE Solutions, etc.
Step 2: Acquiring the DIN
A DIN is nothing but your company's ID. You begin by filing the eForm DIN-1, which is available on the official MCA website.
Step 3: Applying for the registration of the company.
There are 3 forms that need to be submitted on the MCA website. Form 1 and 1A deal with the name of your company, Form 18 is regarding your company's office, and Form 32 deals with the appointing or change of Directors, Secretaries and so on.
Step 4: Acquiring the certificate of Incorporation